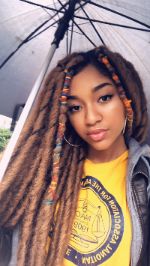 Virginia Richards
My Story
Hi everyone, my name is Virginia and I am a current freshman at Vanderbilt University. I plan to pursue a double major in Political Science, and Law, History, and Society. After completing my undergrad, I wish to attend law school, and after my work as an attorney, pursue public office. I am from a single-parent family in which my mother, a refugee from Liberia, works two near-minimum-wage positions in order to support me and my brother, who is currently a freshman in high school. Without financial aid, there would be no ability for my family to afford the costs of college. I am currently the recipient of a full scholarship from a program that aids low-income, first-generation college students. Unfortunately, the program only offers aid for costs within the semester's bill, so funds to cover a laptop for me to complete assignments, study, and network are not available. I currently work two on-campus positions using my Federal Work-Study in order to save up for a laptop. I currently work as an office associate in the Events at Vanderbilt office, as well as a general intern for Vanderbilt's English Language Center. I am also the Freshman Representative for both the NAACP and QuestBridge chapters of Vandy. Throughout the school week, I must spend late hours at the library in order to do work using the facility's computers at disposal. For class, I take notes on a tablet, but it often does not hold the capabilities to note-take, as well as complete most assignments in an efficient manner. Though I try my best to manage with resources at my disposal, I feel as though a lack of a competent and convenient laptop has been an impediment to my studies. I am the only student that I know that does not have access to a functional personal laptop. Access to a laptop would grant me the convenience of being able to complete work anytime and anywhere. I refuse to allow my studies and drive to fall due to a lack of a laptop! I am completely grateful for any possible donations, and thank you for reading my story!
Desired Item(s)
MacBook Air + warranty and casing
Total Cost Needed: $1400
We have raised
$0.00
of our
$1,400.00
goal.
To donate to this student, fill out your general information below.
Donor Information